New website online!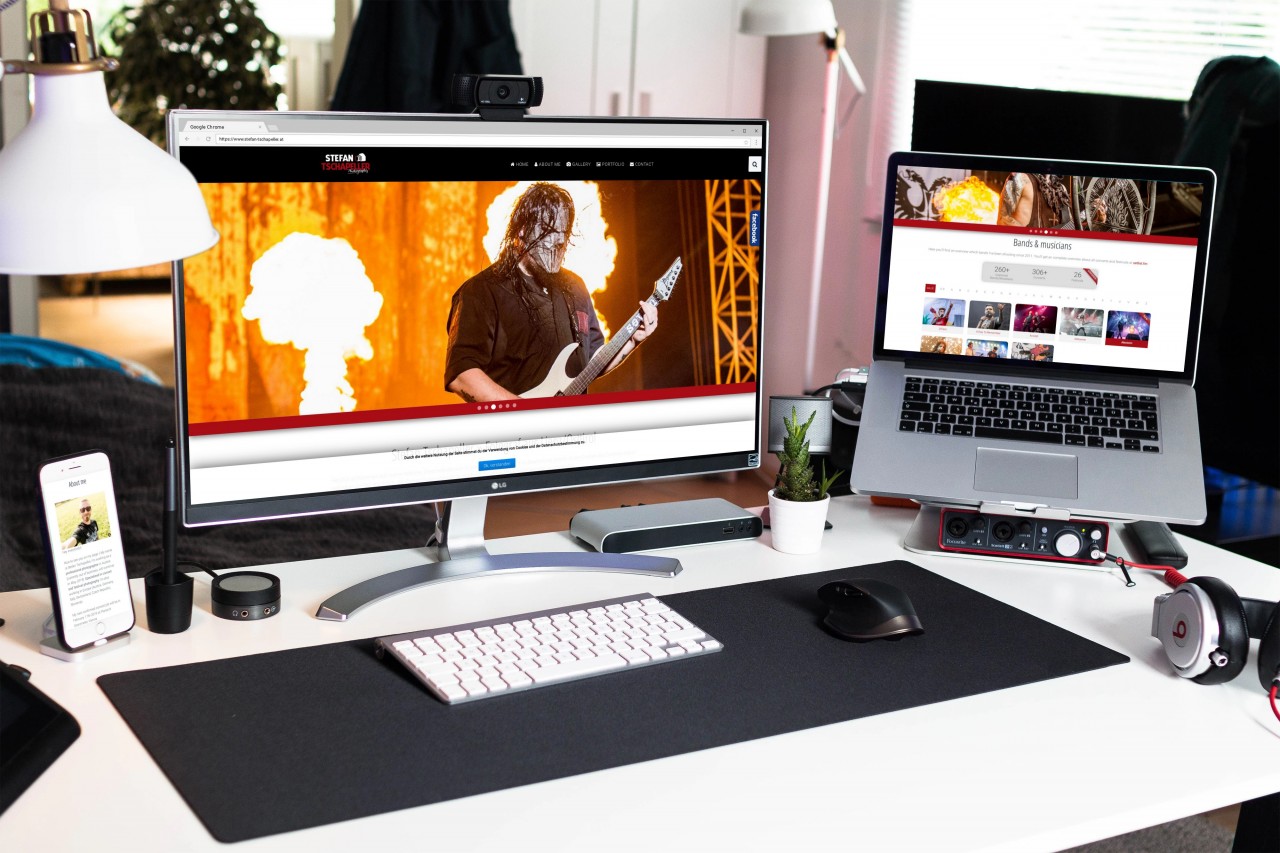 So happy to announce that my new website is FINALLY online! After one year full of development processes, trashing/dumping ideas/code lines and implementing new modules I'm so happy that this project is (now) finished and the site is fully accessible :)
The pages were build with a so-called CCK (content creation kit). I'm using it for over 5 years now and I'm really happy with it, because it saves a lot of work/programming and doesn't boost frustration :D
To speed up my page, I'm going to extend my webserver with a CDN to provide images/scripts faster and to improve loading several pages.

The most time-consumpting feature in developing my website was the "Band" portfolio page with over 260 entries for every single band I've captured since 2013.
When accessing the page, you'll find a complete overview with all bands while scrolling down the page. I've implemented a grid filter, so you can search for a specific band via letter-filtering. Genre-filtering is already on my to-do list, but it's nearly impossible to integrate this because there are countless (sub)genres.
After clicking on a band name, you'll see a complete feature page with every year / venue I've captured them and some impression pictures.
To simplify adding a new band / musician fast and without problems, my CCK is doing all in the background after hitting the save button. To prove that every post is looking the same, the CCK is accessing a pre-defined template coded with the Smarty template engine and every post got the same structure. So every user (and I mean EVERY user) is able to create an article without programming knowledge fast, simple and effective. No programming, no formatting, no image-cropping needed - only type in the needed information, select the pictures you want and voilá - the new post is live and accessible ;-)
It took a long time to get this structure working properly, because so much great features are on the market and I wanted to integrate some of them - but you know: time's money...

I'll extend this page when I got enough time and new ideas to promote my pictures. If you got a nice feature which I could integrate, just drop me a message or a leave a comment :-)
All galleries since 2013 were updated and integrated as well with the appropriate EXIF image data for SEO optimization.
I need to double-check all galleries with my old server that no album is missing - but some of them belong to the trash can *hehe*
I know, there are still some (little) errors on the page, but in the next few days I'll do bugfixing and test the site on different devices (2x Huawei Mate10, 1x Samsung J3, 1x Sony Xperia Z, HP/Lenovo notebook, iPad 2/4, Playstation 3/4 web browser) to avoid display errors ;-)

Best regards and wish you all a great start for the year 2019!
-Stefan
P.s.: You think that was all? No... not at all. In a few months I'll introduce you a tool I've integrated on my page and which can be filled with data from my mobile phone app and/or a single mail when entering words/sentences within a special keychain.

Kommentare
Derzeit gibt es keine Kommentare. Schreibe den ersten Kommentar!
By accepting you will be accessing a service provided by a third-party external to https://www.stefan-tschapeller.at/